Meet Joan Kesman of Skin Care Plus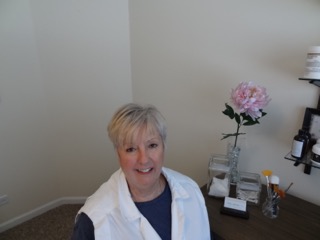 Today we'd like to introduce you to Joan Kesman.
Joan, let's start with your story. We'd love to hear how you got started and how the journey has been so far.
In looking back on my life, I realize that I love helping people look good and feel good and I really enjoyed learning new things. So I went to cosmetology school to study hairstyling. After getting my license, a relative was leaving the business and asked if I wanted to take it over. What a great opportunity!
Of course, I said yes and most of the clients she had did stay with me. To further my skills, I took as many classes as I could. I made a friend at one of the classes and she asked if I wanted to take an anesthetic course. Well, she dropped out, and I liked it so much that I continued.
Now with an esthetic license, I started doing facials at a makeup salon but continued with hairstyling for awhile along with the facials. Then when I worked in a spa, I quit the hair business and just did facials. After a few years, I met up with an old friend and together we opened our own skin care salon.
She had to leave after a few years because of illness. I continued with the business, hiring estheticians and massage therapists. That was like babysitting and did not like that. So I decided to rent my other rooms. Esthetics led me to take many different courses throughout the years in other alternative modalities.
I wanted to incorporate more treatments into my business. Massage therapy, aromatherapy, reflexology, energy healing modalities (Silva Method, Pranic Healing, Quantum Touch, Reiki, E.F.T., Psych-K, Sound Energy Therapy with Tuning Forks) are the ones I worked with for some time.
Today I do sound energy therapy with tuning forks and facials but the facial treatments are different today. I not only follow the scientific rule, "The more you irritate the skin, the more it becomes inflamed, the faster you age, and the more you are prone to skin cancer" but I've incorporated the energy healing techniques into my facial treatments.
This helps people to relax even more so they can not only look good but also feel great! And you could have a tuning forks treatment too, and float out of here. Before you leave I will recommend Pevonia products for you to take home to help keep your skin healthier and happier.
We're always bombarded by how great it is to pursue your passion, etc – but we've spoken with enough people to know that it's not always easy. Overall, would you say things have been easy for you?
Having your own business brings on challenges but having a partner brings on more challenges. Communication was the biggest part of the challenge. We both were used to doing things on our own and in our own way without consulting anyone.
Because of past experiences in our lives, we knew how to handle the situations with talking thus working things out. Our friendship became stronger and we are still friends today. The partnership did end after only about 5 years because she became quite ill and needed to leave the business.
It was a scary time. Would she be okay and would I be okay without her helping me in the business? Well, she was slowly getting better and is doing well today. I decided to hire other people to work for me since I had space to pay for. That was not working out as I had hoped. My next plan was to have independent contractors rent the spaces.
That worked out much better. They all were responsible and easy to work with and really nice people, but nothing lasts forever. Everybody seemed to leave about the time the economy bottomed out, 2008 and I was left with all the bills for space. Hard times for me too. Business was just not the same anymore. I looked for a year for independent contractors to rent the space from me and finally, I had two women who did.
Again I was lucky with two great women. In 2011, I decided it was time to move on. My daughters and grandchildren had moved from out of state to the St. Charles area and I wanted to be closer. So I moved myself and my business out to Geneva. It's been difficult building the business back up out here.
Marketing is a lot different the past few years doing it with social media. I had built up the business in Westmont with 99% referrals. I said I love learning and I have learned so much through my life and am still learning. All this has made me a stronger, empathetic, and a calm and peaceful woman.
We'd love to hear more about your business.
Skin Care Plus is located in Geneva, Il. The setting is quiet and peaceful with scents from a diffusor when you walk in. First-time clients are given a form to fill out. From there and the consultation that follows, the client and I can figure out what their skin needs at this time.
At the end of the facial, I recommend Pevonia products to further help their skin which they can purchase from me. After many years of doing many different services, I now specialize in facial treatments, mainly for calming and antiaging, product consultations (recommending products for their face), and sound energy therapy using tuning forks.
The tuning forks treatment is the one energy healing treatment that relaxed me so much that I dozed off. First time ever with any treatment, so I was sold on that one to do for clients. Even clients who talk a lot, stop talking when I do the tuning forks on them. The facial treatments that I do are not aggressive treatments in that I do not tear down the skin with peels and such.
Been there, done that. I believe in helping to repair and build up the skin to make it look better and stay healthier. Peels and such make the skin thinner and more sensitive and in the long run, you will age faster. I always tell clients that before doing a facial for the first time. I do use glycolic or an alternative to a peel that is a more natural product for clients that need more.
The scientific rule that I follow is "The more you irritate the skin, the more you become inflamed, the faster you age, and the more you are prone to skin cancer". Different modalities are used during a facial, such as LED light therapy (anti-aging, healing, calming, helps acne, and more), Ultra High Frequency (helps acne, healing, helps scar, antiaging, and more), High Frequency (kills acne bacteria).
Ultrasonic (helps product penetration). To help the skin repair even better and faster, healing energy modalities are used during the facial. A mini sound therapy treatment can be added to the facial for added relaxation. The Pevonia product I use and sell is safe, effective, and results oriented with the latest ingredients for all the skin's needs. The ingredients are natural and organic.
What were you like growing up?
Being the oldest child, I was responsible, quiet, conscientious, curious, neat, serious. My Mom and Dad worked so I had to take care of my youngest sister. I cooked and cleaned. I was a serious person who had to do everything well. I couldn't call my childhood as carefree. I was able to play baseball and ride my bike.
In high school, I had a nice group of friends that I biked with and played tennis. I liked school and was an honor roll student. I obeyed the rules most of the time and if I didn't, nobody knew it. My mom and dad were strict so you didn't argue with them at all.